Sarah A. Neuenswander
---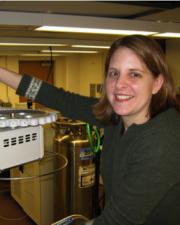 Assistant Researcher Senior
Contact Info
Gray Little Hall (ISB) Room 1134
1567 Irving Hill Road
Lawrence, KS 66045
---
Selected Publications
—
K. Stephens, A. Allgeier, A. Bell, T. Carlson, Y. Cheng, J. Douglas, L. Howe, C. Menning, S. Neuenswander, S. Sengupta, P. Thapa, and J. Ritter (2020), A Mechanistic Study of Polyol Hydrodeoxygenation over a Bifunctional Pt-WOx/TiO2 Catalyst; ACS Catalysis. 2020, 10, 21, 12996-13007
C. Schroeder, S.A. Neuenswander, T. Yao, J. Aube, and J. Golden (2016), One-pot, regiospecific assembly of (E)-benzamidines from d- and g-amino acids via an intramolecular aminoquinazolinone rearrangement; Organic & Biomolecular Chemistry, 2016, 14, 3950-3955.
F. Li, Y. Miao, L. Zhang, S.A. Neuenswander and J.T. Douglas (2011), Metabolomic Analysis Reveals Novel Isoniazid Metabolites and Hydrazones in Human Urine; Drug Metabolism and Pharmacokinetics Vol 25, No. 6, pg 569-576.
M.L. Houchin, S.A. Neuenswander and E.M. Topp (2007), Effect of excipients on PLGA film degradation and the stability of an incorporated peptide;  Journal of Controlled Release Vol 117, Issue 3, pg 413-420.