Justin T. Douglas, PhD
---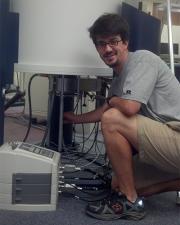 Lab Director, KU NMR Core
Contact Info
Shankel Structural Biology Center, Room 1083
2034 Becker Drive
Lawrence, KS 66045
---
Selected Publications
—
1. Kyle J. Stephens, Alan M. Allgeier, Alysha L. Bell, Torren R. Carlson, Yan Cheng, Justin T. Douglas, Laurie A. Howe, Carl A. Menning, Sarah A. Neuenswander, Sourav K. Sengupta, Prem S. Thapa, and Joachim C. Ritter. A Mechanistic Study of Polyol Hydrodeoxygenation over a Bifunctional Pt-WOx/TiO2 Catalyst. ACS Catalysis 2020 10 (21), 12996-13007 DOI: 10.1021/acscatal.0c03475
2. Rudeen AJ, Douglas JT, Xing M, McDonald WH, Lamb AL, Neufeld KL. The 15-Amino Acid Repeat Region of Adenomatous Polyposis Coli Is Intrinsically Disordered and Retains Conformational Flexibility upon Binding β-Catenin. Biochemistry. 2020 Oct 20;59(41):4039-4050. doi: 10.1021/acs.biochem.0c00479. Epub 2020 Oct 1. PMID: 32941008.
3. Orsi DL, Douglas JT, Sorrentino JP, Altman RA. Cobalt-Catalyzed Selective Unsymmetrical Dioxidation of gem-Difluoroalkenes. J Org Chem. 2020 Aug 21;85(16):10451-10465. doi: 10.1021/acs.joc.0c00415. Epub 2020 Aug 5. PMID: 32697905; PMCID: PMC7442739.
4. Ana Rita C Morais, Luke D Simoni, Justin T Douglas, Aaron M Scurto, Mark B Shiflett. Phase equilibrium and diffusivities of hydrofluorocarbons in a synthetic polyol ester lubricant. AIChE Journal. 2020. July Volume 66, Issue 7, e16241. https://doi.org/10.1002/aic.16241.
5. Bhattarai S, Devkota S, Meneely KM, Xing M, Douglas JT, Wolfe MS. Design of Substrate Transmembrane Mimetics as Structural Probes for γ-Secretase. J Am Chem Soc. 2020 Feb 19;142(7):3351-3355. doi: 10.1021/jacs.9b13405. Epub 2020 Feb 4. PMID: 31999444; PMCID: PMC7359870.
Awards & Honors
—
Steven F. Warren Research Achievement Award, University of Kansas - 2018